We sent an anonymous survey to our team which included questions surrounding the recession, work environment and general happiness in the workplace. Anonymous feedback is so important as it encourages everyone to be as honest as they can in order to inform decisions as there is always room to improve!
We're super happy to see that:
– 97.5%+ of the workforce saying they feel 'very happy' / 'happy' when at work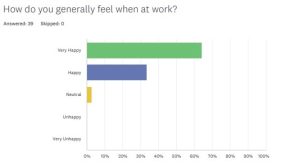 – 95%+ would happily recommend working for Durlston Partners to family and friends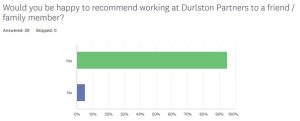 – 95%+ agree / strongly agree that communication between senior leaders and employees is good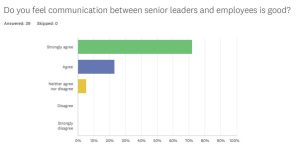 Good communication between senior leaders and employees is key for a healthy work environment as it develops trust and increases morale and productivity.
The ethos at DP is that if you share information and knowledge then this will be repaid tenfold by colleagues. Employees are trusted and treated the same regardless of their seniority / length of service – there is no preferential treatment.
Great to also see that 95% of DURLSTON PARTNERS would be happy to recommend working at DP to a friend / family member, and many already have (with a chunky referral fee for anyone successful)!
We've also created a 'feedback inbox' where employees can submit thoughts and ideas anonymously so we can continue to learn, improve, and grow together!